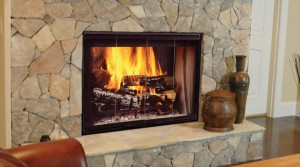 After you have had your chimney inspected, and necessary repairs made if needed, it is time to pick the right kind of fuel for your fires.  A lot of our customers ask us what kind of wood is best for burning, and honestly it is less about what kind of wood, but more so the condition it is in.
Chemically speaking, all wood is the same, regardless of species. What matters is the density and moisture of the wood. Wood with a higher density tends to burn better and release more heat. Higher density woods, such as red oak, will produce a longer lasting and hotter fire. A softer wood, like elm, will burn faster and cool down faster.
With that said, wood should be stored outside, with a cover over the top, and openings on the side to allow air to get in. This keeps your wood sheltered from the weather, but available to the vital air circulation.
Here are the top five woods for burning based on the BTU rankings.
Hickory
Beech
Hard Maple
Red Oak
Yellow Birch
Many people will see a fire as an opportunity to toss in unwanted trash and byproducts. You should never throw plastics, magazines, garbage, or treated woods into your fireplace.