Hidden Fire Hazards: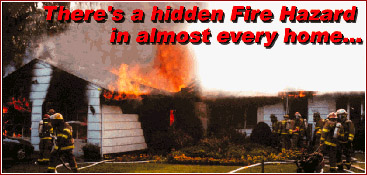 There's a hidden danger spot in most homes today. Chances are you don't look at it or even think about it. It's the venting from your clothes dryer. Over time, it fills with lint that sneaks by your dryer's filter. Overheating comes next as the lint builds up. Now you're just a step away from a duct fire.
Sound far-fetched? Here are some sobering facts:
The Consumer Product Safety Commission estimates that over 15,000 clothes dryer related fires occur each year.
In 1996, the result was 20 deaths, 320 injuries and over $84 million in property damage, according to the commission.
The CPSC reports that the most frequent starting point for these fires was the dryer vent area.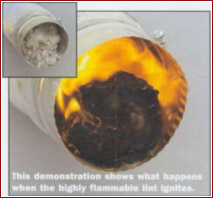 Fortunately, removing this danger from your home is neither complicated, nor expensive. Plus as an added benefit, removing this lint results in a dryer that runs cheaper since it uses less energy to get your clothes dry. Drying times can even be shorter, getting you out of the laundry room faster.
Finally, the dryer itself can last longer since it's not stressed.
Zip Codes Served
45001, 45002, 45005, 45011, 45013, 45014, 45030, 45034, 45036, 45039, 45040, 45042, 45044, 45049, 45050, 45052, 45056, 45064, 45065, 45066, 45067, 45068, 45069, 45102, 45103, 45106, 45107, 45107, 45111, 45113, 45118, 45120, 45121, 45122, 45130, 45140, 45146, 45150, 45152, 45154, 45162, 45174, 45176, 45177, 45202, 45203, 45204, 45206, 45208, 45209, 45211, 45213, 45214, 45215, 45216, 45218, 45219, 45220, 45223, 45224, 45225, 45226, 45227, 45228, 45229, 45230, 45231, 45232, 45233, 45236, 45237, 45238, 45239, 45240, 45241, 45242, 45243, 45244, 45245, 45246, 45247, 45248, 45249, 45250, 45251, 45252, 45254, 45255, 45257, 45258, 45262, 45311, 45322, 45324, 45370, 45402, 45405, 45409, 45420, 45424, 45426, 45431, 45432, 45434, 45440, 45449, 45459, 41001, 41005, 41006, 41007, 41011, 41012, 41014, 41015, 41016, 41017, 41018, 41022, 41030, 41035, 41042, 41048, 41051, 41059, 41063, 41072, 41073, 41074, 41075, 41076, 41091, 41092, 41094, 41095, 47006, 47012, 47016, 47022, 47024, 47025, 47030, 47060
Cities Served
Cities Served: Alexandria | Amberley Village | Amelia | Amelia Village | Anderson | Avondale | Batavia | Bellevue | Bethel | Blue Ash | Boone County | Brentwood | Bromley | Burlington | Butler County | California | Camp Washington | Campbell County | Cheviot | Cincinnati – Downtown | Clermont County | Cleves | Clifton | Colerain Township | College Hill Station | Columbia-tusculum | Covedale | Covington | Cummingsville | Delhi Hills | Edgewood | Erlanger | Fairfax Station | Fairfield | Finneytown | Florence | Forest Park | Franklin | Ft. Mitchell | Ft. Wright | Glendale-woodlawn | Goshen | Greenwood | Groesbeck | Hamilton | Harrison | Hebron | Hyde Park | Independence | Indian Hill | Indian Springs | Kenton County | Kenwood | Lebanon | Liberty Township | Lockland | Loveland | Madeira | Maineville | Mariemont | Mason | Middletown | Milford | Monroe | Montgomery | Mt. Healthy | Mt. Washington | Newport | Newtown | North Bend | Northbrook | Norwood | Oakley | Oxford | Parkdale | Price Hill | Queen City | Reading | Sayler Park | Sharonville | Silverton | Springboro | St. Bernard | Symmes | Taft | Taylor Mill | Trenton | Union | Walnut Hills | Warren County | West Chester | West Harrison | Western Hills | Westwood | White Oak | Wyoming